Running Gears
Unverferth Grain Handling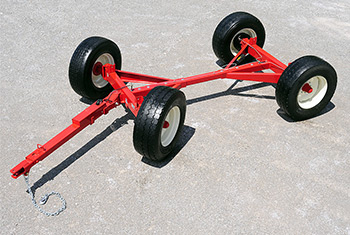 13 Ton Running Gear
When it comes to moving grain, hauling hay, transporting irrigation pipe and whole host of other farm and industrial uses, there's an Unverferth Running Gear ready to meet your needs.
Features
Each model is engineered and on-farm tested for optimum performance
All models feature four stake-pockets and adjustable wheel base for convenient matching to a wide variety of box sizes
The widest variety of wheel sizes in the industry are available from Unverferth to meet individual needs
A telescoping tongue for easy hookup is standard on 13-, and 12-ton models and optional on 10- and 8-ton models
13-, 10-, and 8-ton models feature an adjustable tongue length to match wagon-use conditions
Optional rear-surge brakes for the 13-ton model automatically disengage for backing
10- and 8-ton models feature 180-degree steering for a tighter turning radius and extended life of steering components
A 108-inch coupling pole can replace the standard pole in 10- and 8-ton models
Frames are precisely constructed and aligned to ensure straight, smooth trailing
Double MIG continuous-bead welding and extra bracing virtually eliminate downtime due to load stress
Heavy-duty spindles and hubs are standard on all models
A high-quality powder-coat finish in red or green helps resist corrosion
Truck-style steering components are used on 13 and 12-ton models for durability
Self-lubricating bronze bushings in the steering components and front spindles of 10- and 8-ton models add years to service life
Easy-to-reach grease fittings at all pivot points add to durability
Specifications
Model
RGE-13
RGE-1202
RGE-10
RGS-10
RGE-8
RGS-8

Models with the prefix ending with an "E" feature extendable tongue.

Models with the prefix ending with an "S" feature standard tongue.

Due to continuing improvements in the design and manufacture of Unverferth products, all specifications contained herein are subject to change without notice.

Rated Capacity
13 Ton
12 Ton
10 Ton
10 Ton
8 Ton
8 Ton
Wheelbase
8'-12'
9'-12'
7'-11'
7'-11'
7'-11'
7'-11'
Tread Width (typical)
6'8"
6'8"
6'
6'
6'
6'
Standard Coupling Pole
7'8"
8'
6'11"
6'11"
6'11"
6'11"
Spindle Diameter
2-1/2"
2-1/4"
2"
2"
1-3/4"
1-3/4"
Ground Clearance (typical)
12"
18"
13"
13"
13"
13"
Bolster Height (typical)
24"
25"
27"
27"
27"
27"
Approx. Weight
1140 lbs.
952 lbs.
730 lbs.
685 lbs.
660 lbs.
625 lbs.
Literature