Maximus® Disk
Unverferth Seedbed Tillage
The word maximus is Latin for "the greatest", and that's why it was chosen for this unique disk. For maximum disk tillage in a variety of applications, including between orchard and vineyard rows, look to the Unverferth Maximus™ disk.
Features
Both front and rear gangs feature tool free, gang-positioning adjustability from the traditional X-shape to a diamond-shape to match the desired level of tillage aggressiveness and width
Aggressively tills and penetrates soil between rows up to six inches deep for effective, efficient weed control and soil leveling
Heavy-Duty 3" x 3" and 2" x 6" welded steel frame provides durability and consistent, uniform penetration
Blades feature 9" spacings and are mounted on a 1 3/4" round shaft for maximum durability
Triple-lipped greaseable bearings with 10,800 lbs. of dynamic-load rating provide long life
Disk blades are available in smooth or notched front/rear combinations to match your needs
Tool-free adjustable working width in 2-inch increments
Choose from 6' or 7' base with several options to provide the width and tillage agressiveness for your operation
Powder-coat finish of implement red to resist corrosion
Accessories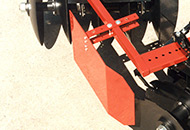 Width Adjustable Side ...
Furrowing shovel can be positioned between the front gangs or the middle of the disk, and it's depth-adjustable with a simple pin setting
Aggressive Rolling Harrow® basket with angled, high-carbon-steel scalloped blades, finishes off weeds by knocking soil from roots and leaving them on the surface to wilt and die
Blade scraper kit eliminates buildup, even in wet, sticky soil
Width-Adjustable side shields protect fragile fruit trees and grape vines
Bolt-On blade extensions expand working width by 1'5"
Specifications
| | | | | |
| --- | --- | --- | --- | --- |
| Frame | Working Width | Gang | Blade Number | Approx. Weight(lbs.) |
| 6' | 5'3" - 6'2" | Add-a-Blade Capable | 8-Front 8-Rear | 1805 |
| 7' | 5'3" - 7'2" | Add-a-Blade Capable | 8-Front 8-Rear | 1805 |
| 7' | 5'3" - 7'2" | Fixed | 8-Front 10-Rear | 2100 |
| 7' | 6'8" - 8'7" | Fixed | 10-Front 10-Rear | 2400 |
Common Specifications

Due to continuing improvements in the design and manufacture of Unverferth products, all specifications contained herein are subject to change without notice.

Horsepower required
5 h.p. to 9 h.p. per foot
Blade specifications
24" x 1/4"
Cutting-angle adjustability
11 positions
+29° to -29°
Working depth
up to 6"
Hitch types
category I, II, & II quick hitch, category IIIN & IIIN quick hitch
Literature