Ripper-Bedder
Unverferth Seedbed Tillage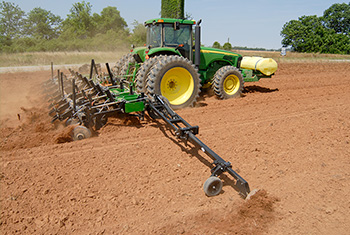 Ripper-Bedder with Row Marker
The Unverferth Ripper Bedder uses deep till shanks and offset discs to create an ideal seedbed for peanuts, cotton and other bedded crops, saving you time and fuel by doing both in one pass.
Features
Heavy-duty, double frame, welded construction and 6" x 6" rear bar
Steep-sloped, heat-treated deep-till shanks that loosen compaction to a depth of 18 inches and allow plant roots access to soil moisture and nutrients beneath the hardpan
Model 410 features economical, shear-bolt shank protection with 7,500 lbs. of shear pressure
Model 430 features auto-reset shanks with pivoting shank mounts that trip upward and rearward for avoiding in-field obstacles and quickly reset without the need for shear-bolt replacement; trip pressure of 6,000 lbs. for consistent working depth
Bedding disk gangs are fitted with 18" outer- and 20" inner-concave disk blades that till, raise and shape the seedbed for optimum seed germination and vigorous, early plant growth
Gang positioning can be staggered for shaping rounded beds that capture and retain more moisture, or opposed for a taller, peaked bed
Disk blades are 4-position angle adjustable from 7-degrees to 24 degrees
Bedder arms can be mounted offset or in-line (back to back) for a cleaner furrow
Bedder arms feature a parallel link design and are tool-free adjustable to one of three settings:

Floating – works best in rolling contours and previously tilled soils
Semi-rigid – works well when extra downpressure is needed but arms may still float freely downward to follow uneven soils
Rigid – ideal for untilled conditions and standing beds from previous crop where soil penetration is important in level conditions

Durable powder-coat finish of tractor red or green
Accessories
Optional 20.5 x 8-10 gauge-wheel package provides added flotation in tilled soils when bedding disk in floating mode
Optional front coulters with six-bolt hubs and 20" 13-wave feature 1,500 lbs. penetration.
Can be fitted with optional 20-inch, 13-wave blades for exceptional cutting.
Optional blade-scraper kit bolts onto bedding disk arm
Optional bed-shaper kit for added leveling and a firmer, ready to plant seedbed
For added shank life, optional shank protectors are available in either steel or plastic
Shear-bolt protected row markers with notched blades penetrate soil to leave a highly visible mark in a variety of soil types, residue and terrain

Markers for folding models are either bi- or tri-folding for compact transport
Optional quage wheels provide added flotation lighter soils

Optional shank protectors enhance shank durability and are available in either plastic or steel styles
For 12-row wide models, an available lift-asssit package makes raising and lowering the machine quicker and easier
Specifications
MODEL SIZE
ROW SPACING
Appx. Weight (lbs.)
TRANSPORT WIDTH
TRANSPORT HEIGHT
MODEL 430 AUTO-RESET
MODEL 410 SHEAR-BOLT
With coulter
Without coulter
With coulter
Without coulter

Due to continuing improvements in the design and manufacture of Unverferth products, all specifications contained herein are subject to change without notice.

4-row
36"
4,000
3,600
3,400
3,000
15'6"
-
38 "
4,000
3,600
3,400
3,000
15'6"
-
6-row
36"
5,950
5,350
5,230
4,630
21'
-
38"
5,950
5,350
5,230
4,630
21'
-
8-row folding
36"
8,970
8,160
8,000
7,200
16'6"
11'6"
38"
8,970
8,160
8,000
7,200
16'6"
11'6"
40"
8,970
8,160
8,000
7,200
16'6"
11'6"
12-row folding
36"
13,875
12,526
12,383
11,063
20'10"
11'9"
38"
13,875
12,526
12,383
11,063
21'3"
12'7"
Literature